Ohmite

- Ohmite Manufacturing Company has been a leading provider of resistors for high current, high voltage and high energy applications for over 80 years. Our full complement of products includes wirewound, wire element, thick film, and ceramic composition resistors, in addition to variable voltage controls and heatsinks.
FCSL Series Resistors
Publish Date: 2009-02-26
Ohmite has extended its range of metal element, SMD, current sense resistors with the release of the FCSL product range 2, 3, and 4 watt packages.
High Temperature Current Sense Resistors
Publish Date: 2009-03-03
Ohmite has launched the new 14AFR Series of axial leaded current sense resistors, affording customers higher power densities than previously available.
TGHG Series Resistors
Publish Date: 2009-10-19
Ideal for many current monitoring and precision control applications, Ohmite's TGHG Series SOT-227 type resistors are available in resistance values as low as 0.5 mΩ. Featuring a four terminal Kelvin connection to isolate the measurement path from the current flow path.
LVK Series Resistors
Publish Date: 2009-10-19
Ohmite's surface mount LVK current sense resistor series are available in sizes 1206, 2010, and 2412, with an alternate 2 W version in a 1224 footprint.
WV Series Heatsinks
Publish Date: 2009-10-19
Ohmite has launched a series of heatsink solutions for use with the popular TO-220 and TO-247 power resistors or similarly packaged semiconductors. These self aligning heatsinks feature solderable feet for through-hole placement and an integrated clip.
TEH100 Series Resistors
Publish Date: 2010-03-09
The development of a heatsink that aids low thermal resistance has enabled Ohmite to push the power ratings of its TO-247 resistors to new levels. A result of this is the TEH100 series, which is rated at 100 W at a 25°C case temperature.
Quick Heatsink Guide
Publish Date: 2011-02-16
Calculate heatsink and see heatsink components from Ohmite that are appropriate for applications requiring different wattage and mounting options.
Duration: 5 minutes
Cabinet Products
Publish Date: 2011-08-01
Cabinet types and kits from Ohmite including resistor and heatsink cabinets.
Duration: 5 minutes
High Voltage Resistors
Publish Date: 2011-12-06
Ohmite's high voltage resistor product offerings include Mini Mox, Maxi Mox, Super Mox, Slim Mox, HVF, and Macrochip series.
Duration: 5 minutes
Current Sensing Resistors
Publish Date: 2011-12-06
Summary and discussion of the full range of current sensing resistors offered by Ohmite including specifications, benefits, and applications.
Duration: 5 minutes
Heatsink Overview
This vodcast reviews the various types of heatsinks that Ohmite manufactures and explains their features and benefits.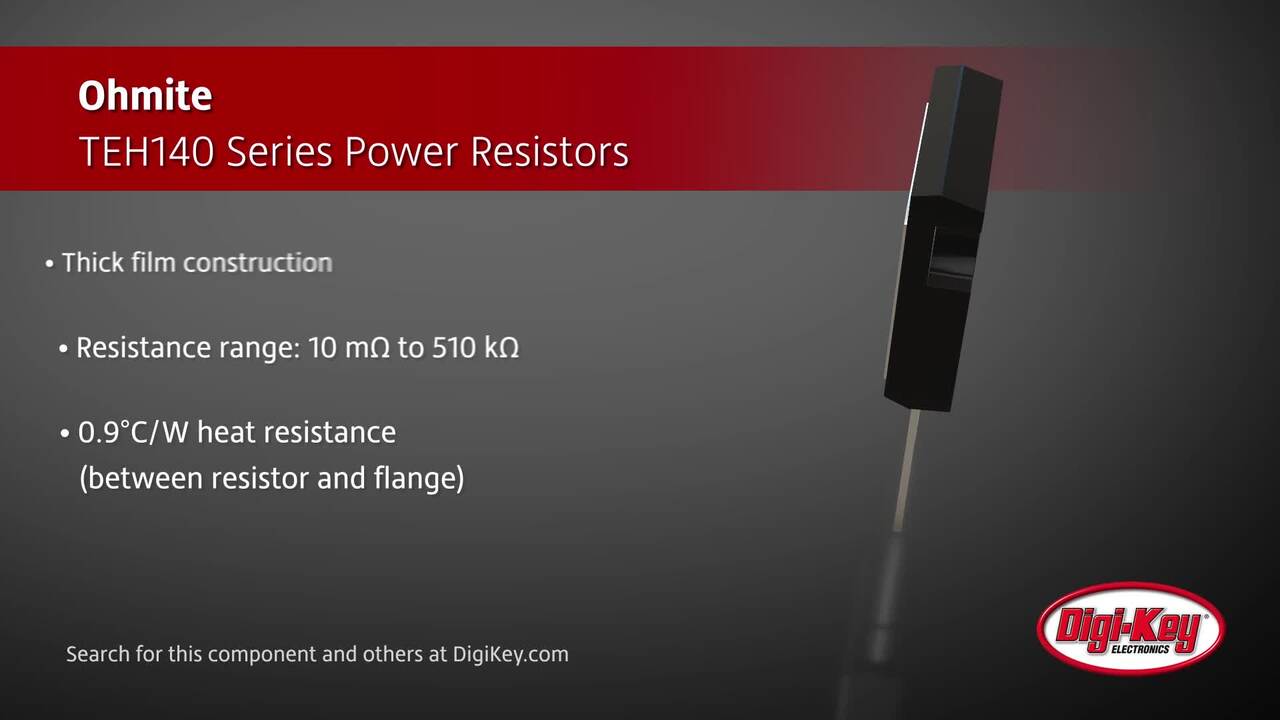 Additional Content
Product Information

Product Guides

Documents of Interest